Undoubtedly spices not only enhance the taste of our dishes but are also beneficial for our immune system. Indian spices consist of many nutrients, antioxidants, vitamins and minerals. Spices have been an integral part of Indian food since ages. They are famous for their anti-inflammatory properties and immunity-boosting power.
Below is the list of 12 Indian spices aiding to stimulate the immune system :
1) BLACK PEPPER

Black pepper has a bold flavour. This Indian spice enhances flavour and is a good seasoning option. It is rich in anti-oxidants and has high anti-inflammatory properties. It controls blood sugar and cholesterol levels. Black Pepper promotes digestive health. Thus, black pepper is the king of spices.
2) CINNAMON
Cinnamon is full of antioxidants and has anti-inflammatory effects. It also reduces the risk of heart disease. This Indian spice may also help fight bacterial and fungal infections. It helps fight tooth decay and promotes good breath. It is also helpful in diabetes.

3) TURMERIC
Turmeric is well-known for its anti-microbial properties. This spice can relieve pain. Turmeric makes the digestive system more efficient. Turmeric milk is an elixir to cure a common cold and flu. It also promotes liver health.
4) CLOVE
Clove is an antidote for tooth pain. It contains a high amount of antioxidants which makes the immune system stronger. This spice is an effective remedy to combat cold and cough. It promotes bone health and may reduce ulcers.
5) SAFFRON
Saffron adds vibrant colour to dishes. It may curb appetite and help in losing weight. It is useful in treating alopecia, cold and fever. Saffron is also helpful in changing mood and treating depression. This Indian Spice also prevents premenstrual syndrome (PMS).

6) CARDAMOM
Cardamom detoxifies the blood and resolves digestive issues. It neutralizes dental bacteria and helps to get rid of foul breath. Cardamom is good for the health of the heart also.
7) NUTMEG
Nutmeg is useful in curing diarrhoea, nausea, and stomach ache. This incredible spice treats insomnia also. Nutmeg improves concentration power. It prevents leukaemia and improves blood circulation.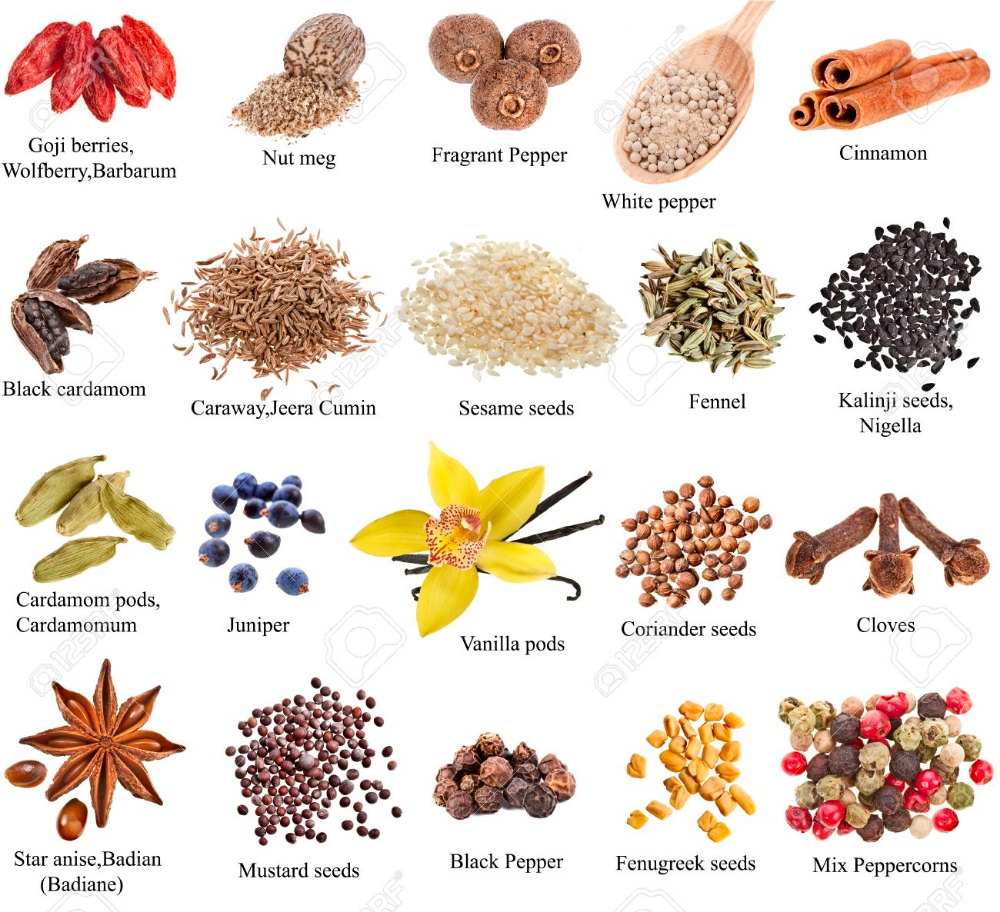 8) FENUGREEK
Fenugreek seeds aids in digestive problems. This Indian spice also increases testosterone levels in males. Also, it increases milk production in breastfeeding mothers. Another benefit of fenugreek is that it relieves menstrual cramps.
9) STAR ANISE
The oil produced by star anise helps treat cough and flu. Take star anise tea after meals. After its consumption, say goodbye to bloating gas, indigestion and constipation. This Indian spice can treat respiratory ailments.

10) CUMIN
Cumin or jeera has plenty of iron and antioxidants. It can aid in digestion. A source of Vitamin C, this Indian spice aids in stimulating the immune system. Cumin also has Vitamin E and thus can give you a healthy and youthful skin.
11) CURRY LEAVES
A bunch of curry leaves to your dal fry or upma gives a distinct flavour and aroma. People throw the curry leaves but chewing them has a host of benefits. Curry leaves help to prevent stomach problems, diabetes and premature greying of hair. Curry leaves are useful in eyesight problems. It also supports good kidney and liver health.
12) GINGER
Popularly known as adrak in Hindi. Ginger has a lot of medicinal properties. It is traditional for cough and cold. It can work wonders for digestive health. Ginger helps recover lost appetite. This Indian spice is a saviour for girls as it can reduce menstrual pain.
Finally, Indian spices not only add to the flavour of recipes but aid in stimulating the immune system also. So, now when you add spices to your dish, you know that you are boosting your immunity power also!.So without a doubt you should start intaking them to fight any pandemic or epidemic disease.
Also Read:
A dying dog in my neighbourhood – Part(1)
Suicide : Permanent Solution to A Temporary Problem
Marriage: And Two becomes One
Love And Loneliness The Two Important Abstract Thing
Sleep and Emotions Definition In Our Life.