Global Junk Food Franchise Has Lessons Of life Behind Its Success:
Ever thought that a global junk food business could give us a life lesson? Well, it can. Here it is how.
The story is set in Henryville Indiana, US.
The story is set in Henryville Indiana, US. The year of 1895, a 6-year-old boy lost his father making his mom get work in a tomato cannery. He was left at home to cook and care for his siblings. Due to hardships, at a tender age of 10 he worked as a farmhand. In his 6th grade, he dropped out of high school and left home.
He took up the work of painting horse carriages. At 16, he faked his age and got entitled in the US Army. Discharged honourably, after a year he worked as a railway labourer and studied law at nearby university. He ruined his legal carrier by getting into a fight. He returned to his mom and lived by selling life insurances. And so he got fired for not following orders.
Years later he established a ferry boat company, which was fairly successful. He started cashing in on his business to lay the foundation for a chemical bulb manufacturing company. Soon he found out, there was already a better company working in this sector.
He quit and started his work as a salesman for a tyre manufacturing company. He lost the job as the company closed the factory. At the age of 40, he met the general manager of an oil company and started running a service station. However, it had to be closed down due to the depression.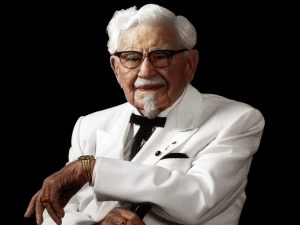 The same year, Shell Oil company, made him run a service station, rent-free. The deal was set that he would pay the company a percentage of his sales. So this man started the service station, accompanied by chicken dishes and other simple meals for the stoppers.
The region soon came to be known by his pan-fried chicken. He closed down the station, opened a proper restaurant and it became a hit! Seeing fair success, he advertised his food. This led to a fatal shootout with a local competitor, killing one of his employees. 4 years later, he opened a small motel nearby, hoping the business would increase. Alas! It caught fire and brought down the restaurant too. To keep himself moving, he rebuilt a new Motel-cum-restaurant, with 140 serving capacity. World War 2 led to pulling it's shutters down.
With the end of the war, he gave a try to sell his recipes to restaurants still failed 1009 times. Finally, in 1952 he sold it. It became a success and other restaurants took it for $0.04 per chicken. Soon this good time marred with bad ones. His restaurant crippled due to a reduction in traffic with the coming up of interstate highway.
He sold his restaurant. He was left with his savings, $105 per month from social security and his recipes. He went forward with the plan of finding a restaurant for franchising his recipes. In the US, he opened a restaurant in 1859. He used to sleep in his car, going from restaurant to restaurant, negotiating his franchise. In 1965, at the age of 75, Colonel Sander's dream franchise finally became a reality. That was the 1st wide reading global junk food retail ever in Canada, UK, Mexico and Jamaica; in the mid-1960s.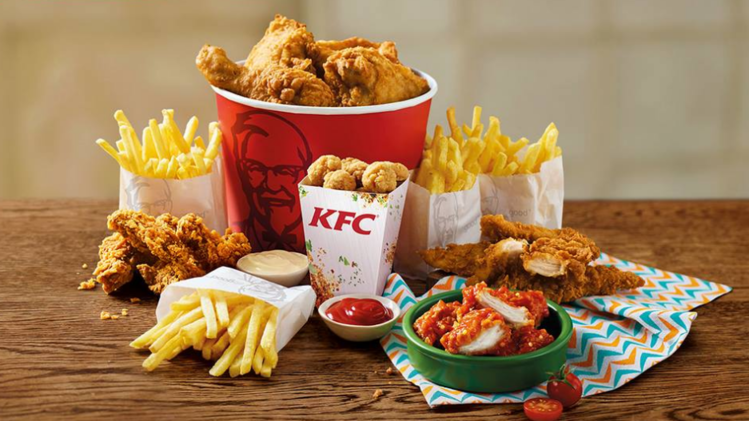 Kentucky Fried Chicken as KFC
His face remained the company's symbol even after selling it. He travelled 400,000km per year visiting his outlets and delighting his customers. Any guess of what this franchise could be? Well, this is one of our favourites, the "Kentucky Fried Chicken", popularly known as 'KFC'.
Colonel Sanders, at the age of 90, left his mortal body and 6000 KFC outlets in 48 different countries!! By December 2019 there are 22,621 KFC outlets in 150 countries!!!
Thought to take
From this KFC( Kentucky Fried Chicken ) story, we see Life is always a mystery from the day we are born into this world. Having a persistent mind, a courageous heart and hopeful soul always takes us to heights. Learn and evolve. Never give up. Remember, people who leave their trademark in this world – got rejected many times, got fooled around a lot and even said to have gone nuts by the society. But nevertheless, they kept to their dreams and achieved it.
Having a simple thing within you could lead you to be victorious and that is – HOPE. Hope that if you persist you could soar great heights. Hope that everything happens for a reason. Hope that every bad path has a good ending. Dreams simply don't come to us, they tend to be our soul's voice. For life to be beautiful, :
Always Listen To Your Soul -Your Heart- Irrespective of Your Age!!!!!!
Also Read:
Top 10 Religions Followed In India
Top 10 Beverages You Should Give A Try
Life Of Orphans
Why Indian History The Most Fascinating In The World
A Typical Indian Mother