Check the latest news updates from all over the world. Without much of the time dissipated you can check out the important news updates from tenOclocks.We have brought up you the best news collected from all over the world. So quickly you can brush up with the daily news when you are too busy to switch on your electronics equipment and spend a part of our time on it.
Obama On Joe Biden
I encourage every American to give Joe a chance and lend him your support. The election results at every level show that the country remains deeply and bitterly divided. We're fortunate that Joe's got what it takes to be President and already carries himself that way. Because when he walks into the White House in January, he'll face a series of extraordinary challenges no incoming President ever has – a raging pandemic, an unequal economy and justice system, a democracy at risk, and a climate in peril.
Greetings Poured For Biden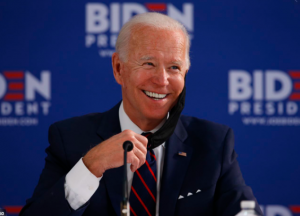 With the win and to make his policy effective, Biden has planned for executive actions that would undo Trump's policies. As per the team sayings US President-elect Joe Biden is to make tackling the coronavirus pandemic his top priority following his win over Donald Trump.A day after Trump's defeat, he was seen his golf course on Sunday.that the. Joe Biden will be the 46th President of the United States, according to race calls by news agency Associated Press as well as other major newscasters. The 77-year-old Democratic nominee Joe Biden who stand remarkably in gaining trusts among the voters have beaten out Republican Donald Trump to become the.
Trump's anger
In anger, Trump fires Secretary of Defense Mark Esper. President Donald Trump announced on Twitter Monday that he has fired Secretary of Defense Mark Esper and that Christopher Miller, who serves as director of the National Counterterrorism Center, will become acting secretary "effective immediately.
Bihar Election, India

How sad it is for democracy when someone like Tejashwi Yadav has been called out for the CM candidate by Mahagathbandhan party(Grand Alliance). Tejashwi Yadav's father Lalu Prasad and mother Rabri Devi were Bihar chief ministers for 15 years before Nitish Kumar handed their Rashtriya Janata Dal (RJD) a resounding defeat 15 years ago in 2005.
Today is also a dark day for the Bihar government as it's predicted that the Tejashwi is going to form the government and complete death of democracy in Bihar will be seen soon.
Corona Updates:
Update: UK experts to study the scope of aspirin as a possible treatment for Covid-19
England: There's a familiar feeling as England returns to lockdown, but many rules have changed.
UK: CureVac's vaccine triggers an immune response, the UK begins review for AstraZeneca's drug.
UK: Government reports 23,287 coronavirus cases on Friday
India: Bharat Biotech's Covid-19 vaccine could be launched by February, says ICMR scientist
World: WHO warns of 'explosion' of virus cases in Europe: AFP interview
Delhi , Arwind Kejriwal: Covid-19 situation deteriorating in Delhi due to rising air pollution
Tech
WhatsApp: The new feature comes with a "disappearing messages" option that will erase chats from the phone of both the sender and recipient after seven days.
India: ISRO successfully launches earth observation satellite EOS-01
Uber and Lyft shares soar after driver status vote
Jack Ma's Ant Group: World's biggest market debut suspended
Japan: Gaming giant Nintendo's profits are soaring as a coronavirus boom in video games continues.
Work from Home success for an IT field. Companies planning to make it permanently?
India: Airtel users can avail free YouTube Premium subscription for 3 months.Download Thanks App to avail offer
Two Cambridge-based companies say the aircraft would provide users with 100Mbps connections.
Singapore schoolchildren must use Covid-trace tech
Apple iPhone 13 could come with major camera upgrades next year
Tiktok avoids ban in US.
Xiaomi Mi 10 to get Android 11 Beta soon as Google releases it for Pixel phones
iPhone 12 series brings secret reverse wireless charging feature for future AirPods, hints Apple's FCC filing
Top Stories and News
US: Powerful countries leaders ( Xi, Putin, Bolsonaro and Erdogan ) still haven't congratulated Biden. What could be the reason?

US: Harris, the First Female Vice President of US.She becomes first female, Black and South Asian vice president-elect
Ethiopia: Ethiopia's prime minister Abiy Ahmed stepped up a military offensive in the northern region of Tigray on Sunday with airstrikes as part of what he called a "law enforcement operation," increasing fears of outright civil war in Africa's second-most populous country.


India: Arnab Goswami, praying for his life: What a shame Maharastra government! A correct pictorial of Mislead and misuse of powers. Arnab Goswami was dragged and taken to the Judicial custody, where he was not even allowed to meet his lawyer. The pressure of the Maharastra government and the senior officers have landed him into much trouble . A video got circulated in which he was seen shouting and requesting on the camera to help him from the extreme atrocity being carried out by the Maharastra Police.Protests from all states of India were seen where people came out fro Arnab's justice.
Tropical Storm Eta crashes into Cuba coast
Ethiopia: Gunmen kill 32, burn houses in an attack in Ethiopia. Gunmen have killed 32 people and torched more than 20 houses in a raid in western Ethiopia, a regional administrator said on Monday. The killings were carried out on Sunday by an armed group called OLF Shane in the Western Wollega Zone of the Oromiya region, administrator Elias Umeda told Reuters.(Reports are taken from CNN)

Japan formally declares Prince Akishino heir to the throne

Bangladesh's first religious school for transgender people has opened in Dhaka.
Rafael Nadal's uncle Toni joins a team of Barcelona presidential candidate
President Trump's former top advisor, Steve Bannon, has been suspended from Twitter over the "glorification of violence" amid the election aftermath.
Uganda: Bobi Wine, Ugandan singer and opposition presidential candidate arrested
Titanic Movie: Elsa Raven, a character actress who appeared in Back To The Future and Titanic, has died at the age of 91.
100 whales Saved in Srilanka :
More than 100 whales stranded on a Sri Lankan beach have been guided to the sea in an overnight rescue operation done with the aid of 180 supporters. Three pilot whales and one dolphin died of their injuries following the mass beaching near the city of Panadura, south of the capital Colombo. The rescue was conducted by the navy, with help from environmental protection officers, police and local residents. Congo to all the saviours.
Mauritius oil spill likely to be cleaned up by January, shipowner says
Teen girl 'rescued' from a forced marriage in Pakistan:
13-year-old Christian girl in Pakistan who was allegedly abducted and forced to convert and marry a Muslim man has been rescued, officials said.The recovery of the girl came nearly a month after the girl's parents alleged that she was abducted by Ali Azhar, 44.
Sports
Football: Real Madrid humbled by hat-trick of penalties in 4-1 loss
Football:Sergio Garcia withdraws from 2020 Masters after testing positive for Covid-19
Football: Eden Hazard and Casemiro test positive for Covid-19
Cricket: West Indies all-rounder Marlon Samuels retires from all forms of cricket
Cricket:  Who is going to win the Indian Premier League this year? Yet again Mumbai Indians.Points Table
Cricket :A perfect all-rounder and an Australian opener Shane Watson announces retirement from professional cricket.
Cricket: Quinton de Kock to lead 24-member South Africa squad for home series vs England
RugBy U:New Zealand's world-famous national rugby team has seen its cash reserves hit hard during the pandemic.
Football: Manchester United's win at Everton relieves pressure on Ole Gunnar Solskjaer
Football: American football player Megan Rapinoe gets engaged to partner WBNA star Sue Bird.Tennis: Rafael Nadal becomes the fourth player to record 1,000 ATP Tour wins with victory over fellow Spaniard Feliciano Lopez at the Paris Masters.
Tennis: Rafael Nadal joins the elite list, becomes 4th player to win 1,000 matches
Tennis: Alexander Zverev overpowers Rafa Nadal at Paris Masters
Badminton:I retire, says PV Sindhu. She has 'definitely not'.
Golf: Former double US Open winners Andy North and Curtis Strange believe Rory McIlroy can come in "under the radar" and complete a career grand slam at The Masters.
Athletics: Coronavirus: USA Track and Field calls for Tokyo Olympics postponement
WWE: Randy Orton responded to his loss against Drew McIntyre by attacking Shawn Michaels, Ric Flair, the Big Show and Christian in the Legends' Lounge.
Wrestling: Mike Tyson and Roy Jones Jr. are ready to give it all they have and fight like how they used to in their prime when they get into the ring at the Staples Center in LA on November 28.
Entertainment and movies:
Rock & Roll Hall of Fame Induction Ceremony:The pandemic-safe version of the annual\ Ceremony on Saturday night — like most major events this year will be a virtual experience.

I'm A Celebrity:The pandemic means they aren't going to the Australian jungle as usual – this year's series has been relocated to the ruined Gwrych Castle in Conwy. They will be joined by actress Beverley Callard, presenter Vernon Kay and former Strictly dancer AJ Pritchard. The series will begin on ITV next Sunday, 15 November.
A question to the world:
If you have a criminal case or have a criminal background, then you are not conceded to go for private or government jobs but a person with such an unlawful background is given the jurisdiction to govern the intelligent bodies of the state. With the power there comes the responsibility, but today we encounter that with with the power you get easy black money and a license to participate in more crimes. So why such things exist in man kind.
Thought of the day:
The capacity to learn is a gift; the ability to learn is a skill; the willingness to learn is a choice.
– Brian Herbert