Top 5 Indian Saree For Wedding:
India is a country of tradition and culture. As we know that India is a very diverse country so traditional saree comes from different states in India and also Indian saree silk
is woven with many threads of tradition within Indian culture.
Every state has its own culture and owns traditional
Indian saree design
like patola saree in Punjab, Kanjivaram silk saree in Tamil Nadu, Banarasi saree in Uttarpradesh and many more.
In the modern world, Indian saree design can be looked like a fashion piece because Indian saree design is fashionable as well as trendy. It can take many forms and styles. If you want, you can wear it both traditionally or in a fashionable way, in the end, it will never go out of fashion. As we grow we will look at our mother, grandmother or elder sister wearing an Indian saree for a wedding with pride and honour and also look stunning in it.
Let us look at top 5 Indian saree for wedding
1.Banarasi Silk Saree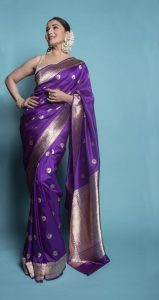 Banarasi silk saree originates from the city of Varanasi in Uttarpradesh; It is extremely famous all over India and also internationally. It has its roots seeped into the rich culture and history of India. Nowadays Banarasi silk saree is considered to be one of the finest traditional sarees. It is well known for its stunning Indian saree design which is inspired by Mughal and also for gold as well as silver brocade or the Zari. Some often, it is decorated with intricate floral and foliate designs.
However, you will also find a string of upright leaves, which is known as "Jhalar" in Indian saree design. One of the most fascinating features of this Banarasi silk saree is that it consists of heavy work of gold, small detailed figures, metal visual effects with compact weaving as well which is best for Indian saree for weddings.
2.Kanchipuram Silk Saree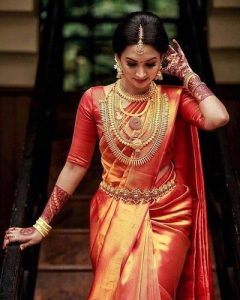 Kanchipuram silk saree from South India is the best answer to the more popular Banarasi silk saree. Made with thick fabric and deep colours mixed with hints of gold, Kanchipuram silk saree is worn on festival occasions and celebrations. It is the best choice for Indian saree for the wedding. It's woven from pure mulberry silk and the silk belongs to South Indian, whereas the pure gold and silk Zari are from Gujrat.
Here, you will find a zig-zag pattern (known as the pitni) where the body meets the pallu. Kanchipuram silk saree is known for its catchy Indian saree design and vibrant colours, which is inspired by the temples in small villages of Kanchipuram aka. An original Kanchipuram silk saree can cost $ 94.59(7000rs) and $26,791.15(2,00,000) .
3.Patola Saree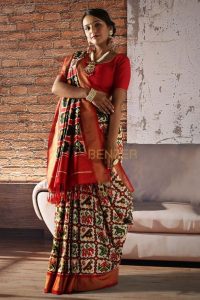 Patola silk saree is a legend in waves. it is an exclusive inheritance of royalty and aristocracy. It is an Indian saree for weddings and also worn on special occasions like festive celebrations. Patola saree has its origin from Patan in Gujarat. In this type of Indian saree design, the weaving process requires more concentration and precision and they are famous for their geometric motifs and vibrant colours.
Every patola saree is unique and an original patola saree can cost rupees 150,000 to 3 00,000 which make it a part of an exclusive club. You can also buy a patola dupatta which costs 50,000 rupees only.
4.Kota Saree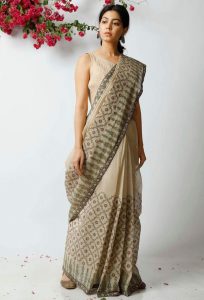 Kota sarees are a unique blend of cotton and silk with square check patterns. This type of silk provides shine and cotton provide strength to the fabric. The weight of Kota saree is very less and the check patterns are known as khat. It originated in Mysore. Previously this Indian saree design of Kota saree is only made up of cotton but now silk was also weaved and it makes it more chic and refined.
Kota sarees have its distinctiveness and it has grown to become one of the famous Indian sarees for weddings.
5.Kalamkari Saree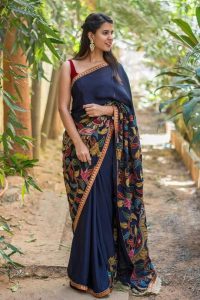 Kalamkari sarees has its root seeped into mediaeval times and globally renowned for their elegant Indian saree design. The word kalamkari means "drawing with a pen". It is a hand-printed Indian saree design done in Andhra Pradesh and Telangana. The motifs here are of Hindu epics like Buddhist art forms, Ramayana and Lord Ganesha.
Making this beautiful Indian saree design requires concentration and Keen eye to details. Kalamkari saree has earned global recognition for its elegant Indian saree design. It comes in different colours and also a beautiful blend of unique design and colour with this it is definitely the best choice for Indian saree for weddings.
Conclusion
The royal look of these top 5 Indian sarees, keep it apart from other sarees. Besides being a part of traditional Indian saree design they are embraced by the modern fashion. So don't forget to share your thoughts on these beautiful Indian saree design.
Also Read:
Food You Shouldn't Miss In The Orange City Of India
INDIAN SPICES AIDING TO STIMULATE IMMUNE SYSTEM
INDIAN FRUITS YOU SHOULD NEVER MISS
Top 10 Beverages You Should Give A Try
Sweets You Should Not Miss In Ganesh Chaturthi
5 Special Sweets On The Occasion Of Ganesh Chaturthi