Criticize, condemn, or complain: Our most important talk includes criticizing, complaining, or condemning someone or themselves.
Whenever there is disapproval for him/her one does criticize, condemn, or complain. According to the words of Sir Dale, he quotes
Any fool can criticize, complain, and condemn–and most fools do. but it takes character and self-control to be understanding and forgiving."
–Dale Carnegie
So does it sound good if anyone criticizes, condemns, or complains without knowing the pretext and situation?
The word criticisms, condemn and complain comes to play every now and then and hither and thither in our daily life actually, sometimes it,s the finest topic for the people to spend their leisure time.
Kicking off with one of the most eminent sportspeople of India. Virat Kohli, the captain of The Indian Cricket team gets criticized by taking account of his attitudes. Donald Trump, the President of the USA is being criticized for his impatience and unrealistic thoughts. Then a person is criticizing his next door for his selfish nature and rude behavior. Then we see uncountable people criticizing their managers for their salary and the increment.
But what we do as a responsible citizen of our nation,
spit on roads?
Tosses garbage beside roads?
Abuse poor?
Trying to find a reason to get addicted to drugs?
Spend hundreds of dollars, but going blind while seeing a beggar or poor man/woman lying in the web of poverty?
Torches the roads and welcoming the traffic jams?
Damaging the government and the nation's products and then saying the government is not fit and should be thrown from power?
So a query to every people of the nations,
And the query is if your dwelling place starts leaking, do not you mend yourselves? So in the same ball game if your nearby road gets vandalized instead of censuring the government why don't you repair yourselves and then show your lovely sign to the government and entire nation. Its to be seen that if the countrymen is not a responsible citizen how the government must be a responsible one to take care of us. If you get a dollar why can't you spend a single cent to any of the poor or feed animals? You should truly need to ponder on these things.
When talking to myself I too do perceive myself somewhere in the zone of lambasting. Coming to me, it's not a while that I complained of my sister's decision for settling abroad in the future. I criticize my colleague on every moment when its disapproval for me, and as a selfish boss, I too criticize my employe for coming late, for not attending the meetings or anything which matters to me.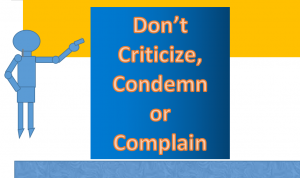 So does it sound good?
No..?
So we shouldn't criticize a person for having a divergent opinion than you because everyone's opinion matters regardless of whether there is a hundred percent agreement. If you initiate the right to criticize, you will never get anything accomplished. The most common natural reaction for someone is to clam up and shy away from a conversation with you. This is especially important in the workplace when trying to settle a conflict.
Don't condemn anyone for doing something you don't believe was right. There may be a reason why he or she decided to do things, either way. In such circumstances instead of reprimanding, you should approach your friend with an open mind and a cool head. Condemning another person's actions without knowing the full circumstance of that action is immature and short-sighted.
Don't complain about a decision that was made or about a problem you are having. Instead, work actively to solve it. We have to ask ourselves what's the worst that could possibly happen, and then look for a solution. Complaining about your job or something that happened inappropriately to you is not going to avert you from solving the problem and maybe it may add pain by seeing those terrible looks, unaccepted behavior, and tough remarks. People don't want to hear you complain about something that happened in the past, they want to hear how or what you did to solve it.
Let's get into a short incident which happened to be in the past of mine
To start my incident, let me give you a brief account of my cooking skills. I hardly had ever gone inside the kitchen during my childhood days and so making of the tea and boiling of eggs if you do not consider as part of cooking then I am not at all a self-called Chef in my house, but one day I too felt like cooking something and so with my mother's consent, I went into the kitchen. Everything was fine till my brother nonexistence in my house, but as he came to the house after an hour of playing with his friends and got the knowledge of my cooking in the kitchen, his unnecessary comments on every clinking of utensils came like a blow of discourtesy. Finally, the dish was prepared and to my brother's no surprise it went awfully wrong and hardly anyone had more than a few bites. And since then my brother got another chance to bully me. But I without participating and responding in any further conversation waited till another time came when I again made the same thing but with some cautions and to everyone,s astound it went so well that today I am competently renowned in my family for making Majestic Paneer Korma. The incident also aided me to stick to my thoughts that it's better to give results rather than criticizing i.e in the incident my brother for his comments, or complaining of the quality of the panner or condemning the limited time.
So in the end, I can bind up by my sayings that
It's foolish to criticize, condemn, or complain,
But too foolish to participate in the group of fools criticizing, complaining, or condemning
Visit these URLs to read out our most exciting incident and thoughts
Contentment Meaning?The Sayings Of Socrates & Bapuji
An apology mail to survive the broken relationship
Apology and excuse, the two words never to be muffled.
Quotes on love: trust me not at all or all in all (Part 1)